Since I have been able to quit my job by blogging full time, friends often ask me how to start a blog. I decided to lay out a full tutorial, step by step, of the process of starting a blog. Blogs have many advantages over traditional websites so before we get into the actual tutorial, lets look at some of them.
Advantages of a Blog
Blogging is Easy!: You heard that right, blogging is actually very simple. If you can open up your email and write an email, then you have the skills to be able to maintain a nice blog. We will use different blogging software to take care of the rest.
Blogs Can be Set Up Fast: Blogging on a free platform is not really recommended, but if you wanted you can sign up right away and start posting. If you want to host your own site, with a nice domain, you can get this done in under 10 minutes.
Blogs are SEO friendly: You will not need to spend too much time with search engine optimization if you start a blog. Blogs will link all your pages and posts together which helps the search engine spiders find and index your content efficiently.
Blogs are Organized: Creating a traditional website is a great skill to have, but it is difficult to keep these types of sites organized. Blogs will organize all your content automatically with dates, tags and category. The user experience is generally much nicer.
A Blog is an Online Community: Blogs typically have a system for making comments. this will allow the readers of your blog to discuss different topics that you write about. If you get a discussion going, you are more likely to have more visits.
RSS is Built In: RSS is the short term for Really Simple Syndication. What this does is syndicate all your recent content where readers can subscribe to the feed and get the content delivered directly to them without having to visit your site.
Decide What To Blog About
There are a great many different bloggers already on the internet. To make sure that your blog will attract readers, you have to have some sort of credibility. This means that you should not blog about just any random thing. You need to pick something that you have a passion for and have experience in. This will help you when you are writing content as you will never get bored if it is something you love.
Decide To Use a Web Host
The biggest decision you will have to make when you are starting a blog is if you want to host the blog yourself or use a free blogging platform.
Free Blogging Platforms
They are free, but I would highly recommend that you do not go with this option. You will not get your own domain. This means that instead of a nice title for your site, you will get something ugly such as myblog.blogspot.com (where many other low quality sites are). You do not really own this blog at all. On top of that, if you decide that you want to get your own domain and hosting, you will not be able to take all your followers of your site with you because you have almost no control over these types of sites.
Host your own blog cheaply using WordPress
This is the method that I always suggest to people that are looking to get into blogging. You will have absolute control and freedom over your site. You will also be able to have your own custom domain name such as myblog.com. When I say cheap, I mean it! You can get a domain name and hosting for under $35 a year. WordPress is also a great free software for blogging that will give you all the flexibility that you need.
Get a Domain Name
This is the fun part. You already have an idea of the theme that you want to write on, so you will now look for a great domain name.
There are many places across the web to buy domain names but I would suggest that you go with a company that is reputable.
NameCheap is one of these reputable companies. They have been in the business for many years and are offering domains for a cheap price. They also like to run promotions for even cheaper options from time to time. Check out NameCheap and get a nice new domain for your site.
Find a Web Host for Your Blog
The best and easiest way to get a website off the ground is to find a hosting company that will give you the option of 1 click installs. This means that you only have to click on 1 button for an instant install of a blogging software. With these types of hosting, you can get your blog started quickly.
Web Hosts with "1 click installs"
 HostGator Blog Hosting
Hostgator offers a One click install of WordPress on every single one of their packages. This is the web host that I would recommend as I use them myself. They have excellent customer service and cheap prices. They are even offering a coupon currently. Use PASSIVECENT to pay a single penny your first month or PASSIVEMARKETING to get 30% off if you order for more than a few months. Go sign up at HostGator.
BlueHost Blog Hosting
BlueHost also offers a one click install of WordPress but are a little less well known. If you go and check out BlueHost.com you will see that the plans generally start from $4.95 a month if you use that link. Otherwise it could be a bit more. They have been listed as a good host for WordPress on the official site.
iPage Blog Hosting
This is another great option for one click install web hosting. You will get the average cpanel and all the good features that a host should have. Check out Ipage.com.
Set Your Nameservers
Once you have gotten a nice web host for your new site, it is time to set everything up. Setting your nameservers is the next step. What this means is that you are going to take your domain name and hook it up to your hosting account.
If you have decided to go with NameCheap like I recommend, then this is fairly easy. The steps are below.
Log into your new hosting account

Scroll down until you find name servers. They should look something like ns4207.hostgator.com. There is generally only two of them.
Copy these two name servers down.
Log into your account manager at NameCheap.
Next to your domain, click pm transfer DNS.
Select your domain name that you want to change the name servers for.
From the nameservers menu, select manage.
Select standard under setup type.
Click save.
There you go, your domain name and your hosting account are hooked up to each other. There are only a few more short steps to go before you can create your blog!
Install WordPress
I wrote a more in depth article on how to install WordPress here so I will keep this short and simple.
Since you picked out a host that allows 1 click installations of the WordPress blogging software, this should go fast and easy for you.
Once again you will want to log in to your hosting account. Look for the Software/services section. You should see 1 or 2 things. Either a Fanastico button, which is a smiling face, or a QuickInstall button which looks like a clock. If you see QuickInstall that is what I always like to use.

After you click QuickInstall, you should see something like this on the left hand side. Select WordPress.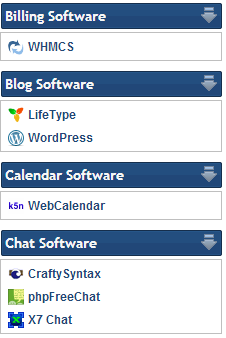 Click on Continue

You will then see a page that should look similar to this.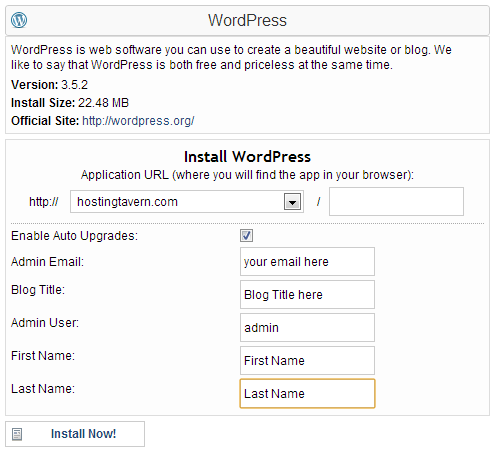 From here you need to select the site that you want to install WordPress on. If this is your first time doing this, you should only have 1 site in the drop down menu. Do not add anything after the slash. Fill out your email, blog title, pick a name for your admin user, and your first and last name. All that is left is to hit install and that's it!
Make sure you use a real email because the software will generate a password for you and you will need that to log into your WordPress control panel.
Quick Steps
Log into your hosting account
Find Software/Services
Select Quick Install
Select WordPress from the left menu
Hit Continue
Fill out the information and hit Install Now!
Final Steps to Starting a Blog
You can now log into your WordPress panel by going to mydomainname.com/wp-admin where mydomainname is the name you registered at GoDaddy.
Download a WordPress theme
This is one of the most exciting steps of starting a new blog, picking the theme! From your control panel, you can go to Appearance > Themes which will show you many free themes to use. Each one comes with lots of different features so take some time looking for a theme that will suite you.
Permalinks
Permalinks are how the URL of your posts are going to show up when you publish them. To change these, go to Settings > Permalinks and then select the post name radio button and hit save changes. This will make your URLs very relevant to what you are writing about which is also good for search engine optimization.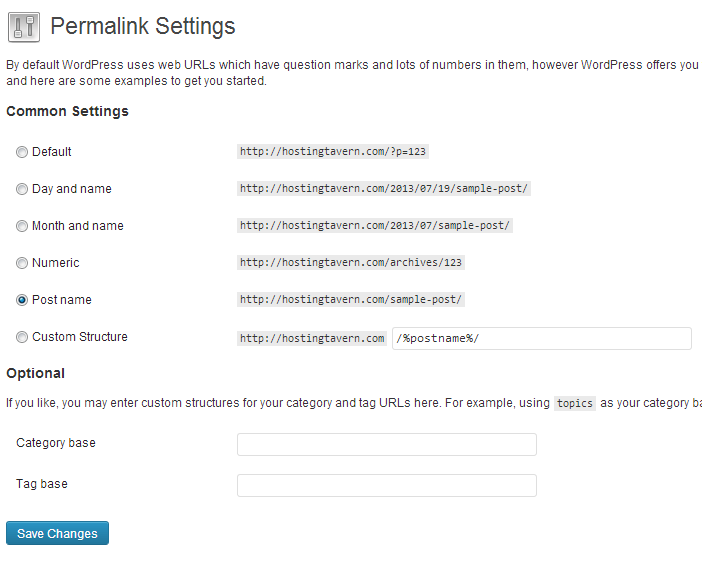 WordPress Security
In order to keep your new blog safe, you are going to want to take some precautions and learn how to improve your WordPress Security. I wrote a post on it and these will only take a few minutes to go through. It is better safe than sorry!
Add Content and Have Fun!
That is all you need to do, from there, you can add some content to your site. Have fun with it and blog about something that you are passionate about. The sky is the limit when it comes to blogging.