Like a lot of people, I do the majority of all my shopping on Amazon. Not only do I sell products on Amazon, am an affiliate for Amazon, as well as have them create and ship my T shirts like I showed you in my last post, but they are the main retail outlet for all my purchases.
So the other day, I realized that I was out of something for one of my main hobbies. The first thing I do is head over, and start browsing products and adding products to my shopping cart. Pretty standard stuff right?
Well, once I get ready to check out, I noticed that my cart was over $100. I certainly have the money to pay for my purchase, but every time I spend ANY money, I have a nagging feeling that I could be turning a great ROI if I put it back into my business. This feeling got me thinking about something I saw on Reddit recently which you can read here: https://www.reddit.com/r/juststart/comments/42z2ek/leveraging_your_authority_site_to_get_products_to/.
It just so happens I have a site in this niche I was looking to buy products for. I also sell products on Amazon with FBA (I am still working on a massive guide for everyone!), so I know all the little tricks that sellers use to get ranked and sell more products. One thing that sellers need to do to keep their account in good standing on Amazon is reply to all buyer messages within 24 hours. Not doing so will result in a strike against you. If you get enough of these strikes, Amazon will take a look at your account and you could possibly be banned. You also should know that when you first launch a product on Amazon, getting good reviews is a MUST since this is what people are looking for when shopping. If you can find someone to leave a great review on Amazon, as well as write up a review on a site that gets traffic, this is a bonus. Typically new sellers will use any number of review groups or services out there (and these only get you reviews on Amazon.com). Do you see where we are going here?
Well, knowing this information, all I did was start contacting sellers on Amazon. It was about 4am so I thought I would shoot out a few emails and see what happened. I sent out 31 emails that night. I woke up to 31 responses in my inbox, which is a 100% reply rate! Of those 31 replies, I got a couple people who offered me free product, a few others who had questions, and then another few sellers who were not running any promotions. Excellent news, I now have free product for my hobby, more content to write for my blog, and best of all, I did not spend a dime. Here is how to do it!
As always, if you want more awesome information like this, hop onto my email list and I will keep you all updated.
Step by Step Guide for Finding Newly Released Products
The first thing you need to do is head over to Amazon.com and enter your niche into the search bar and see what comes up. For this example, I am going to use the Kitchen Knives niche.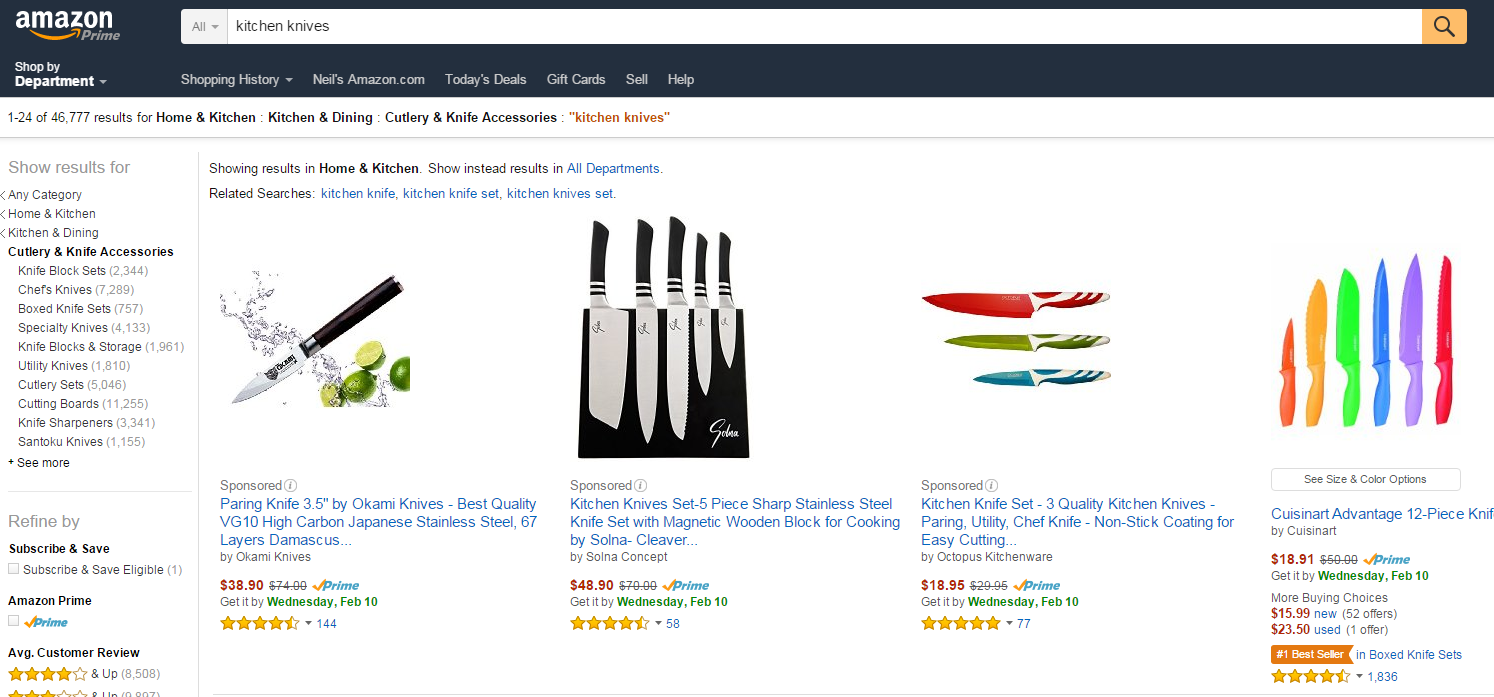 From here, we want to head over to the left hand side of the page and scroll down. You will see a section called "New Arrivals". Click on either the last 30 days or the last 90 days. These are going to be brand new products that sellers have posted to Amazon and will need reviews to start selling organically.

After you click on the new arrivals, you should see a page that is filled with products and many of them will have a few or no reviews at all. You want to be looking for brand names that you have never heard of. Why? Well, if you have not heard of a brand name, this is usually a signal that these are private label brands that people are trying to get off the ground.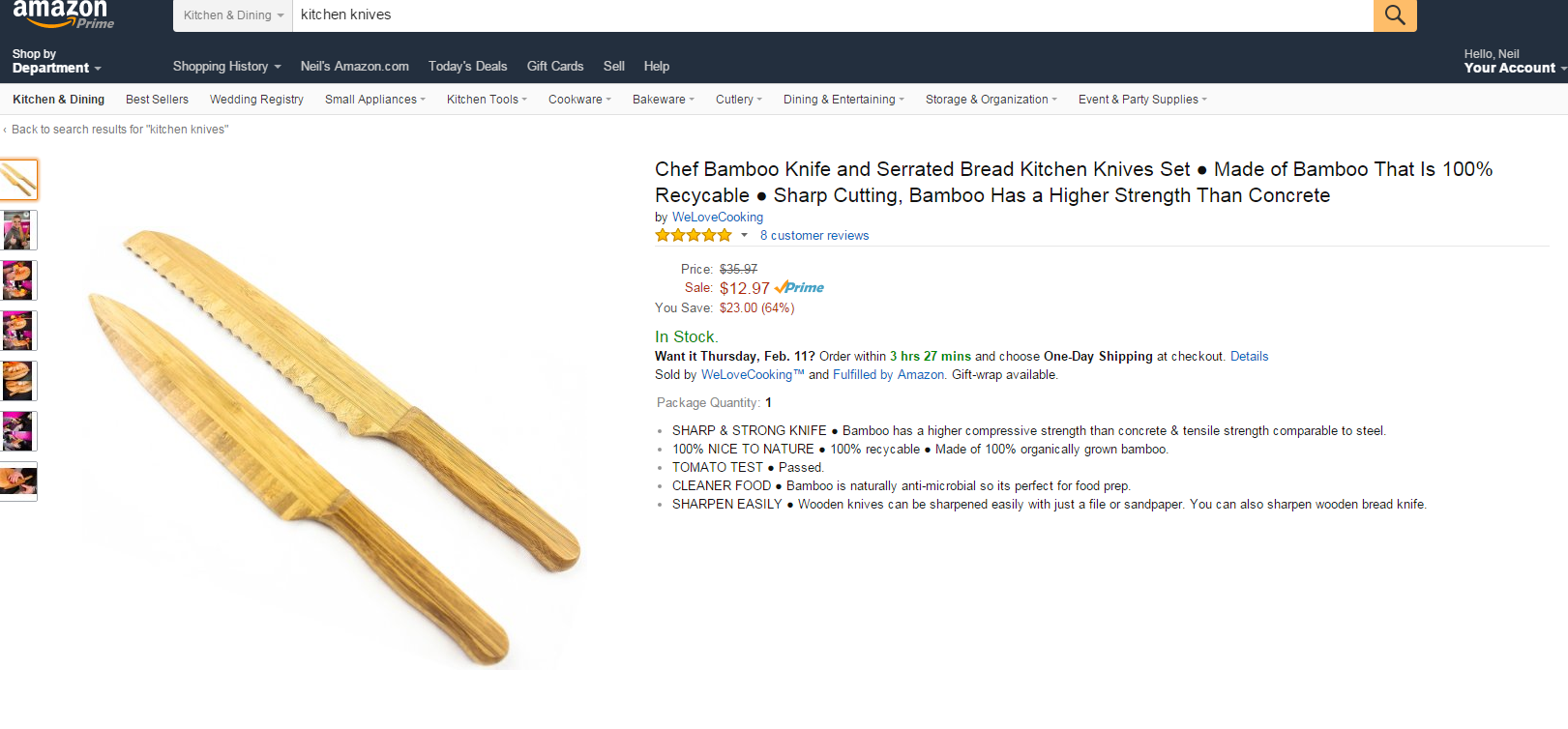 Take a look at this image above. You can see that the brand is "WeLoveCooking". The knife looks nice, and it only has 8 reviews and was just launched. This is a great candidate for this method.
We want to look and read the actual reviews that it has. There are a few things we need to note here. First, if a seller is giving something away for free or any type of discount for more than 50%, then Amazon will NOT give that review a "verified purchase" tag to the reviews. The second thing you need to know is that if you get something for a discount or for free, reviews MUST include a disclosure that says they got the item at a discount in exchange for an honest and unbiased review.
Now that you know these two things, read the reviews on the page and you can quickly find that not a single review has the verified purchased tag and that each person has been given the item to review at a discount. This is a signal that the seller is giving out free or discounted products. Being a seller myself, if you have a site in my niche, I would be absolutely estatic to give away something to you if you will write a review on Amazon and drive traffic to the page from your site!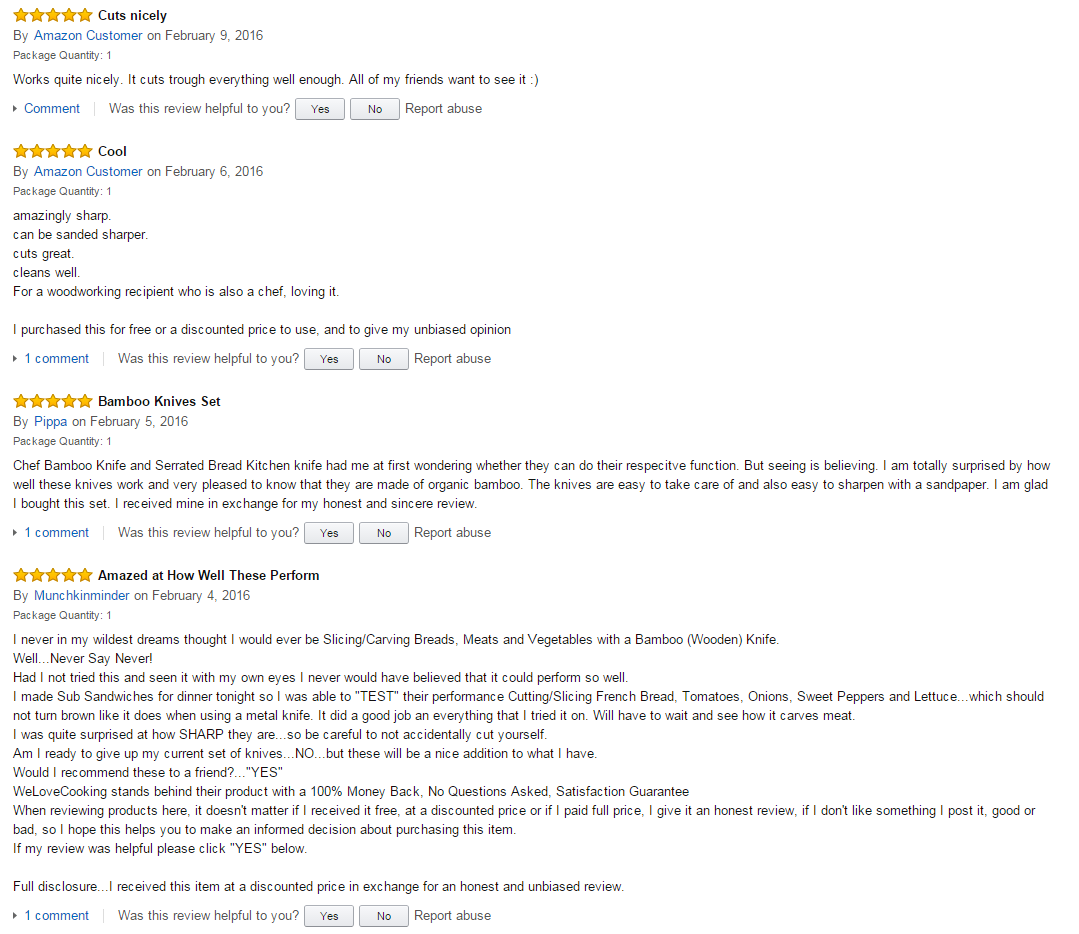 It looks like we have found our target product, now we need to go back to the main product page. You need to find the account that is fulfilling the product. Note that this is typically not the brand name because you are only allowed 1 seller account. This means that you will have 1 account, and then be selling different brands under that 1 account. For this example, it turns out that the brand name IS the same as the sellers name. Click on the name after "Sold by" right after the in stock message here:

After you have clicked that, you will be on their storefront page. This is where you can see the feedback that the account has gotten and all the products that the account is selling. As you can see from the lifetime of this account at the time of writing this, they only have a single feedback (feedback is different than reviews on Amazon!). You can also see that they are a new seller and are just getting started. This is the perfect scenario for asking for a review copy!
Click on the button in the right hand corner labeled "Ask a Question".

All you need to do from here is write a message. This is an extremely rough draft of what I sent that late night when I came up with this idea. If you can create a better message, this should be even more successful. However, this worked just fine for me, and free products are being shipped to my house as I type this.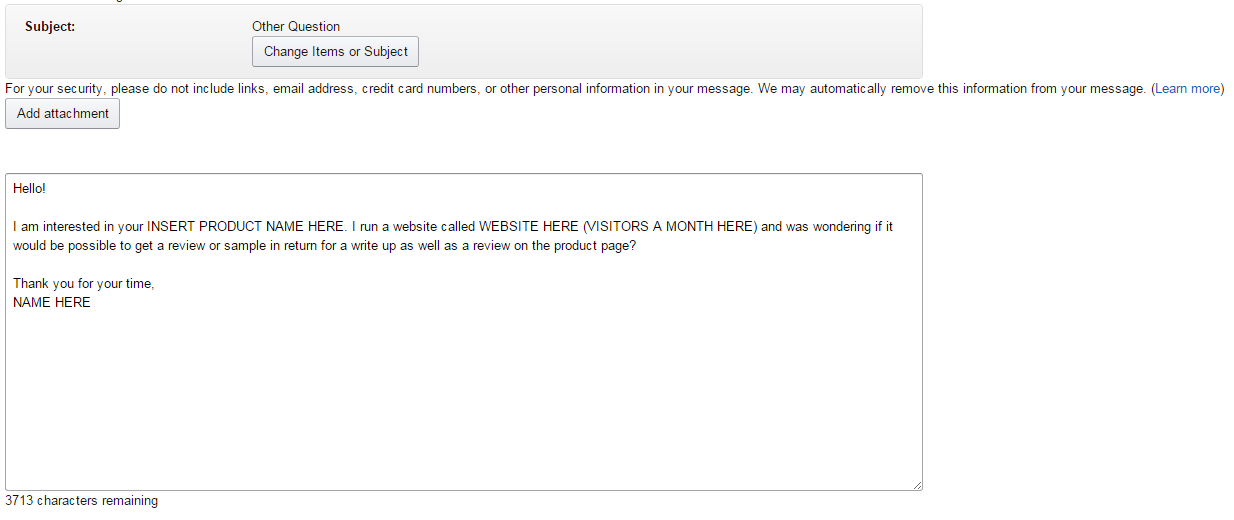 Wrapping It Up
And there you have it! Enjoy pretty much a 100% response rate and hopefully you can snag some free products in your niche! The reason this works so incredibly well is that Amazon makes it essential that they respond to you.
Please please PLEASE make sure you hold up your end of the deal and as soon as you get the product, test it out, write a review on Amazon, and then write a review for your website. Nothing is more of a headache than giving something away to someone for free (and taking a loss on that sale!), just to be screwed over and ignored when you ask them to review your product. As a new seller myself, this is making me slightly insane with how ungrateful people can be.
After you write your reviews, feel free to offload the product on sites such as Craigslist. I would caution you to stay away from reselling the product on Ebay or Amazon because this just creates more competition for a new brand that just did you a solid.
Best of luck and keep hustling!