EDIT 9/23/2016: If you want a far more comprehensive tutorial where I reveal information about keywords and Merch optimization click here!
Alright ladies and gentlemen. It is time to kick off 2016 with a tutorial that I have not seen anyone do yet. I posted about it on my 2016 goals post, as well as on Reddit and have had requests to get this written for some time now.
Initially I wanted to hold off on this till I had hit my goal of $4,000 a month by the end of the year, but I figure there is plenty of money to go around and room for everyone to compete.
Currently I am 1/10th finished with my goal with about 1-2 hours total put into this. To get you motivated, here are some screenshots from a friend who started 2-3 months before me.


What You Will Need
Photoshop (or other photo editor)
Creativity
What Is Merch By Amazon?
Merch by Amazon is the way that I decided to start a T Shirt company. You create designs, you upload those designs, and then they are sold on a print by print basis. There is no need to sell 10 shirts for the design to be printed or you to get your money. The great part of this is that there are no upfront costs, no overhead, and really no hassle at all. The absolutely best part of all of this is that Amazon has so many daily visitors that to achieve the numbers in the screenshot above, there was NO advertising done.
Before this program launched a few months ago, you would have to use Amazon FBA to send in shirts and you had no idea if they would sell or not. This costs money, and took a bit of guess work to get right. Now, you can just upload designs and see what is selling. You take a commission from the price of the shirt minus the cost of the base shirt from Amazon.
Let's get started!
If you want to keep up to date with my progress this year with Merch and other Internet Marketing hustles, make sure to hop onto my email list.
Step 1: Sign Up For A Merch Account
Merch by Amazon was a massive popular program when it launched. Because of this, they quickly shut it down to new applicants and now you will have to wait for an invitation. Request one as soon as possible and just wait. Eventually it will open up, and meanwhile you can follow all the steps here so you are ready to start uploading by the time your account goes live.
Head over to https://merch.amazon.com/landing and request an invitation. This will prompt you to login to your account and fill out some details.
Once you are approved, you should be able to login to your account and see something similar to this:

Amazon Tier Levels
Please note that when you first get your account, you will be limited to 25 designs. There is a tier structure in place that works like this. If you submit 25 different designs, you will be capped there until you have sold 25 designs. If you have sold 25 designs from the original set you made, then they will bump you up to the next tier. So on and so on.
This was capped for me at 25 shirts for over a month because of how popular this program became in a short amount of time. I can imagine how much of an analytical nightmare this is for them.
Tier levels include:
25
100
500
Pro (by invitation)
Step 2: Creating Your First T-Shirt
From your dashboard, click on Create from the top menu. This will bring up a page that looks like this: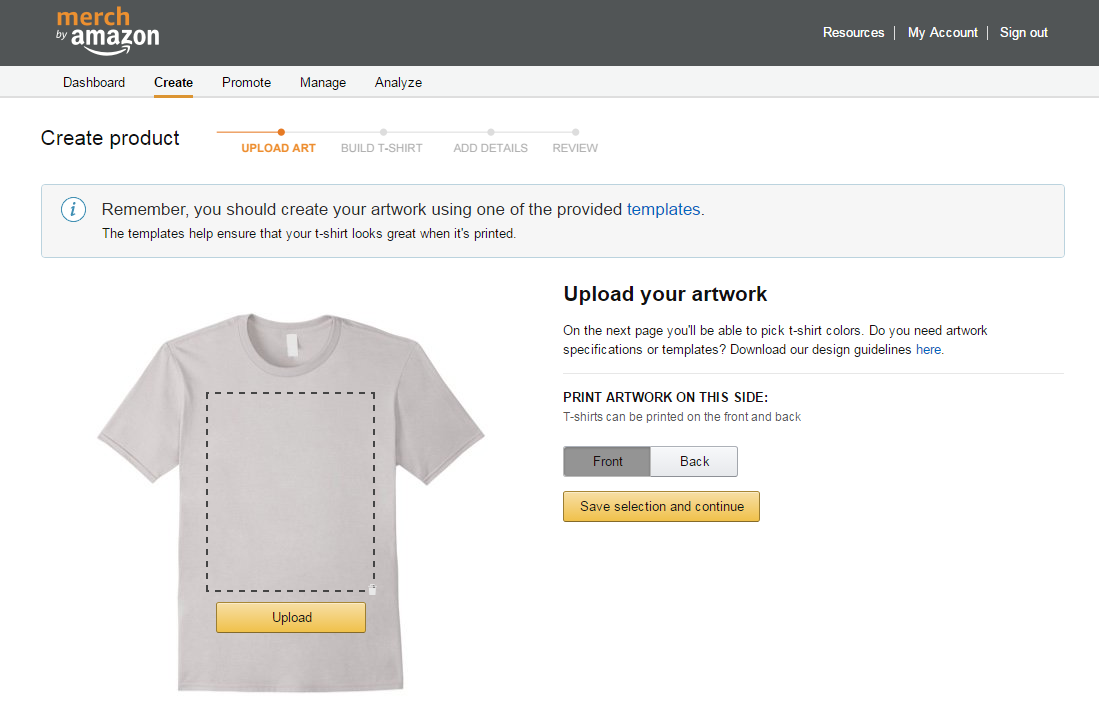 You will notice that they remind you to use one of their templates. It is very important to use these so the shirts print properly. Since the program is currently closed, I have uploaded them here so you can get started.
I use Photoshop, for this tutorial I will be using that.
Open up the template and it should look like this: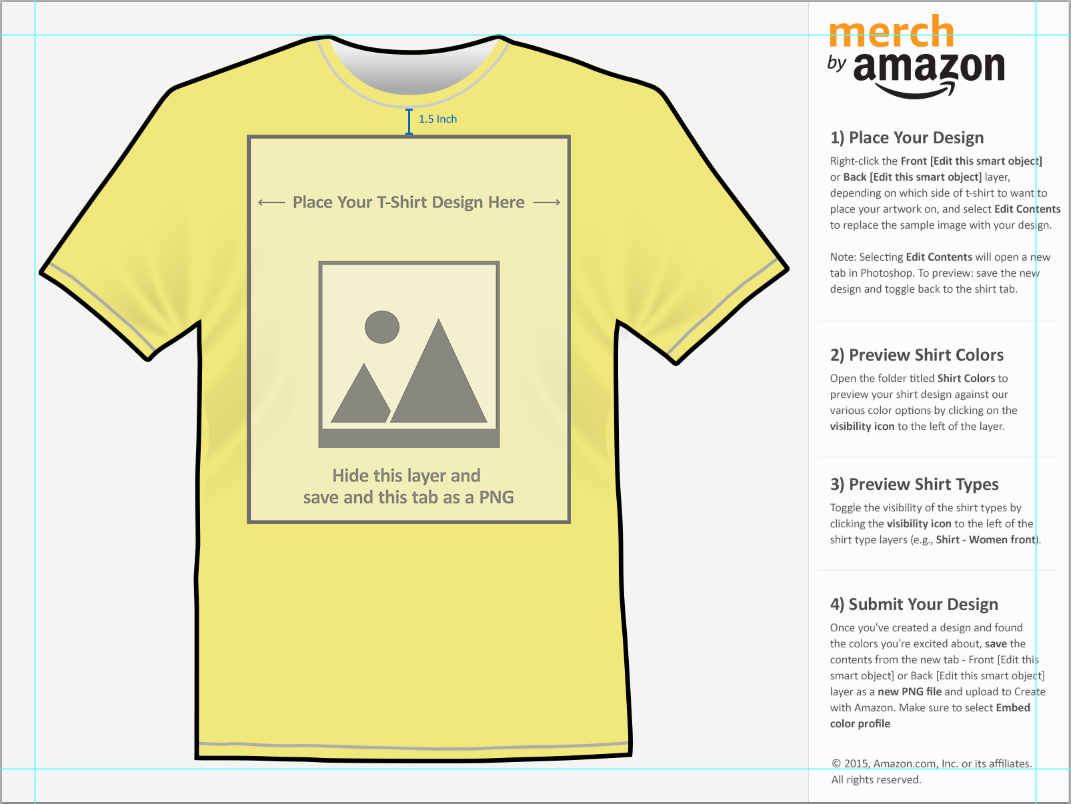 Simply follow the directions in the right side. For Photoshop CS5, right click, edit contents and then hit okay. It will bring up the design window.
Place your design within the borders and make sure it looks good. Be careful not to use small images because often when you scale them up, they will look incredibly pixelated. The window you will be working in will be scaled down under 20% of the size that you save it as.
I am certainly no designer, so here is a quick example that I will be using to upload and show everyone the process.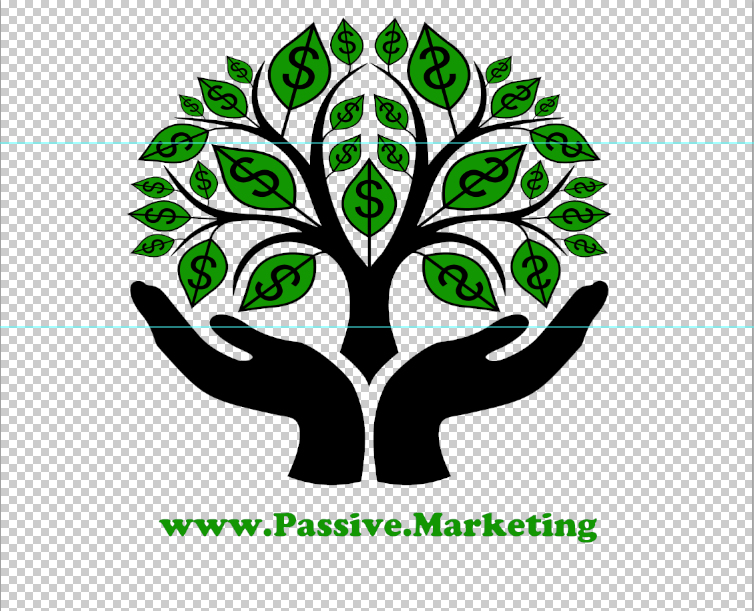 From here, you will want to save your picture. You MUST save your picture as a PNG.
Once you have your PNG image saved to your computer, you can return to the Merch Dashboard. Click on Create from the top Menu, and then click the button to upload your image.
You are able to upload a front as well as a back to your T shirts. So far, I have only uploaded a single shirt with a back. The reason for this is that printing more than 1 side is going to use more ink, and thus your base price for the shirts will increase (netting you less commission).
From there, click on Save selection and continue.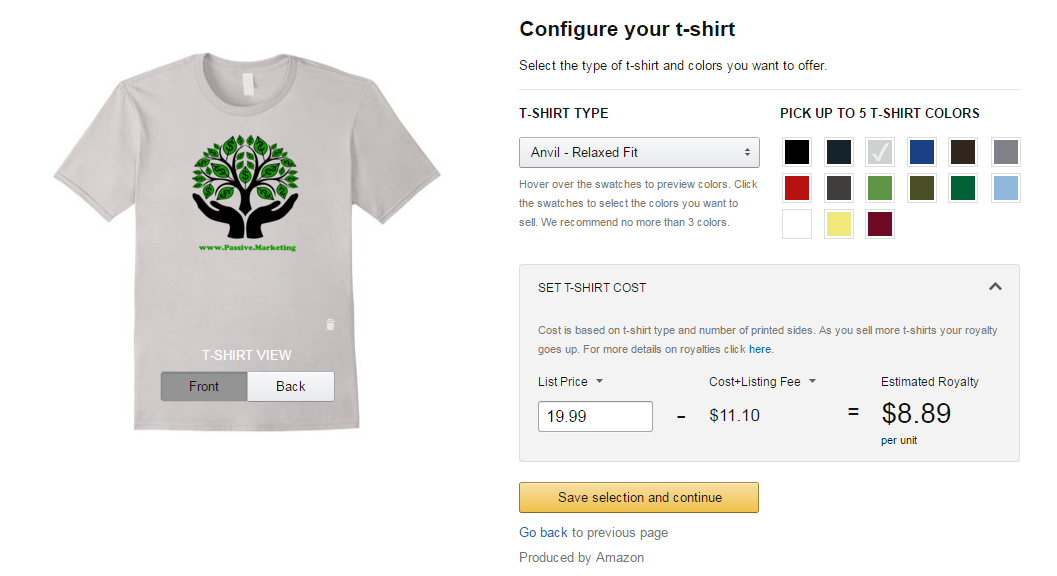 Here is where you will be able to see the different options for your shirt.
Under the drop down under the T-Shirt Type, you have two choices. Anvil – Relaxed fit, and American Apparel – Slim Fit. The first option will have a cost and listing fee of $11.10 as you can see in the screenshot above, and the American Apparel is going to have a cost and listing fee of $12.60. I always go with the first option because I want my margins to be as good as possible.
When was the last time you spent $20 on a shirt? Personally, I think that is an incredible rip off and I want to stay competitive. I generally will set all my shirts around $14.99 which is a much more attractive price. This will net me $4.64 for every shirt sold.
Not bad for a few minutes worth of work so far.
Pick out 5 shirt colors that your design looks good on, and click on continue.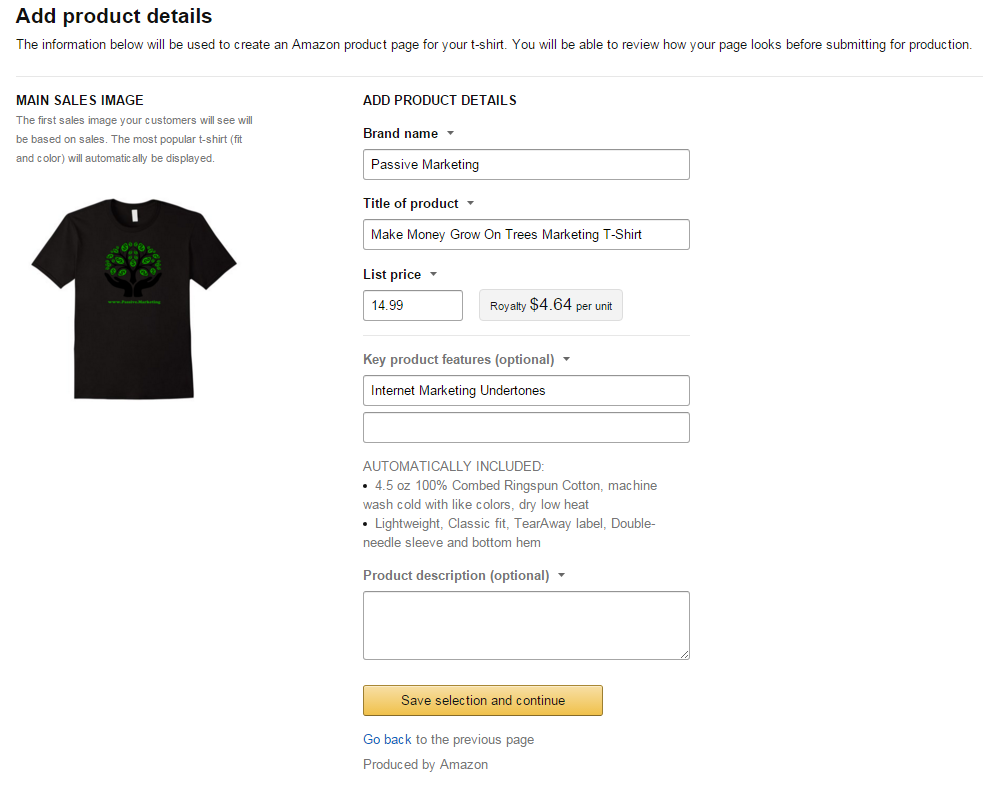 On this page, you are allowed to pick any brand name you want, title your product, take a look at the listing price, add product features, and a product description.
Key features and product description are optional. Both myself and the other people I know do not always fill these out. If you have a specific keyword you are going for, it CAN help if you add them there in a non spammy way.
Now that everything looks good, it is time to hit continue to the last and final page.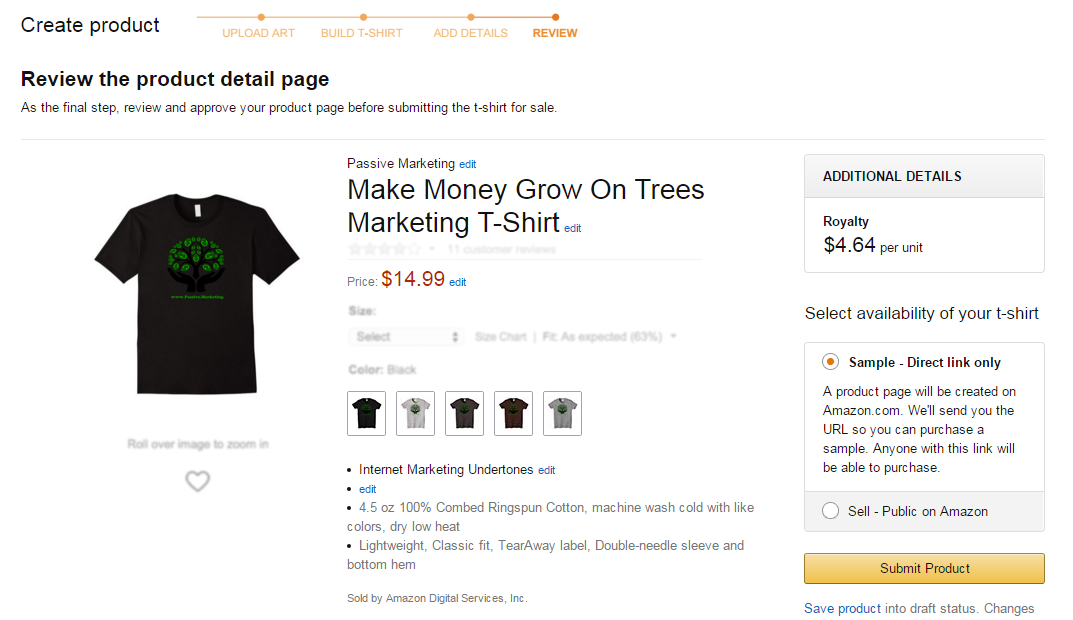 Review your work and make sure it is good to go.
IMPORTANT: On the right hand side, select the "Sell – Public on Amazon" radio button. If you do not select this, your shirt will not display in the catalog and no one will ever find it unless you personally give them a link.
When you are happy with the page, and the sell on Amazon button is selected, click on Submit product.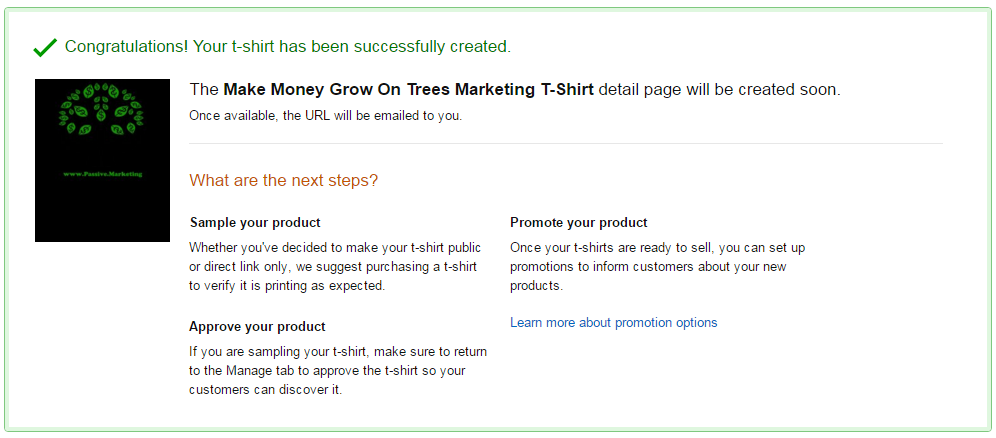 Congratulations, you have your first T shirt completed. The shirt itself will need to be reviewed by Amazon. After an hour or two, it should go live and become searchable for everyone.
You can see the shirt I just created here: Amazon Shirt Link
If you want to support this site, go ahead and become my personal billboard =).
Step 3: Finding Out What Sells
Now that the steps for creating and uploading a new merch shirt have been explained, we need to discuss about making the actual money.
Sure, you could create design after design, but how will you know if they sell? We need a more structured plan of attack here.
To find out what is selling, and find popular Merch by Amazon T-Shirts, you will need to become familiar with 2 things: Recognizing Merch Shirts, and Amazon BSR (Best sellers rank).
Finding Merch Shirts
I usually start out by typing some popular phrases into Amazon.com followed by "t shirt". For this example, I used the phrase "do you even lift bro" + "t shirt".
A lot of different shirts start to pop up. Clicking through a few of them, I found a Merch Shirt.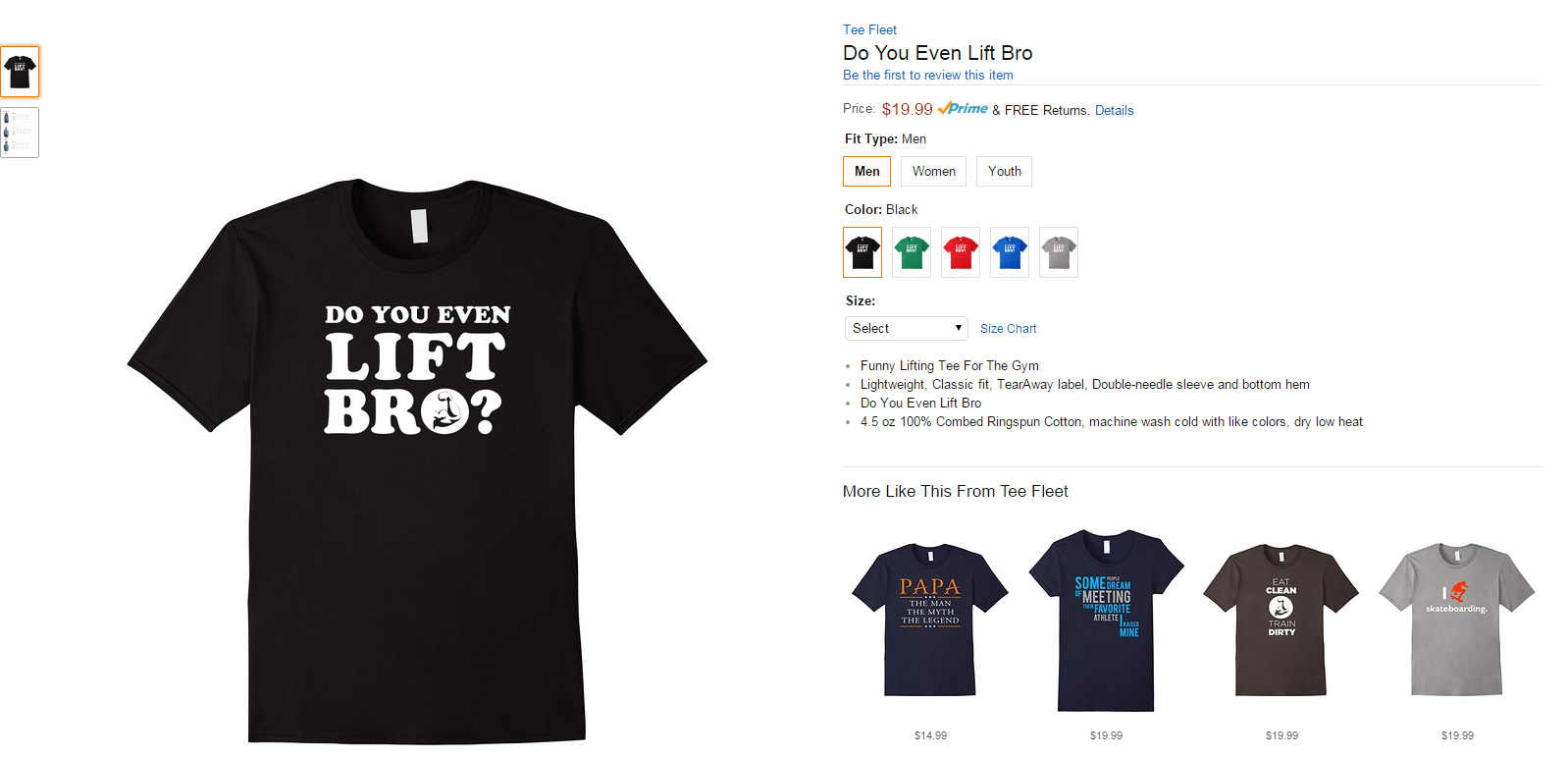 All Merch shirts are going to have the SAME thing in common and that is the sizing chart to the left. They look like this: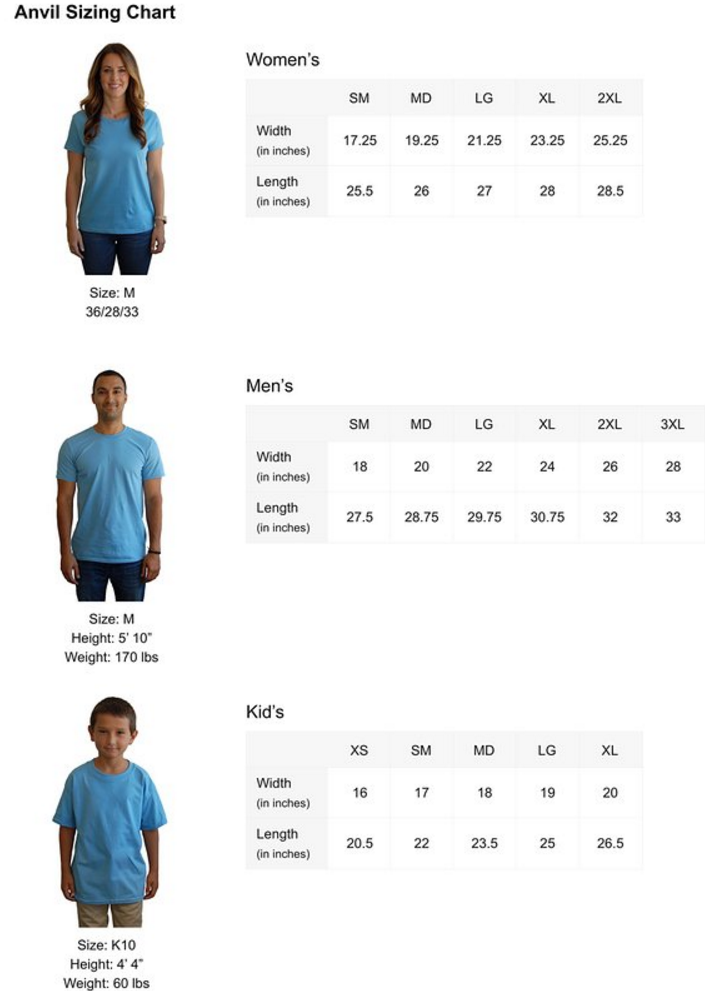 If you see this popping up, you can be sure you found a design that was uploaded through the Merch dashboard. This is a great place to designs.

By clicking on the brand name "Tee Fleet" I get a whopping 8 pages of Shirts that this person has created and uploaded under the same brand.
Just look at all those content ideas that you just found!
Understanding Amazon BSR (Best Sellers Rank)
Going back to the example of the "bro do you even lift t shirt" we just examined, we want to determine how well this product is selling.
To do this, scroll down on the listing to just under the product description. From here you will see a few details about the product, but what you are looking for is the Best Sellers Rank.
The lower this number, the more shirts are being sold. To give you a very rough estimate, if the BSR is at around #2,000-#3,000 that shirt is probably selling 100 of that design each and every day.

This "Bro" shirt is almost at a #400,000 BSR. This probably means he is selling 1 of this design every few days and it is not that popular.
I have found a good rule of thumb is that if a shirt is at or under #100,000 BSR, then that is a design that I may want to take another look at. Add these to a list and continue searching.
You do not want to straight up copy these designs, but instead use them for research and inspiration. This will tell you what your audience is interested in, and it up to you to provide them something of value (something they like and want to purchase).
Just from looking through this single persons shirts, I found this one: Papa The Man The Myth The Legend with a BSR of #121,000 at the time of writing this. This would be a great design to build off of to start.
Make a list of different designs you like and designs that you can tell are selling well. Once you have completed that list, its time to scale baby scale!
Step 4: Grow Your Business (Outsource!)
While I know a lot of you will be able to do simple text T shirts with funny sayings and such on them, sometimes you want more quality and something that is really going to standout. Perhaps you do not feel like creating shirts at all or simply are not familiar with Photoshop (I have a very very minimal understanding of Photoshop and have never used GIMP).
This means you will need to outsource your work. There are 2 great places to do this:
For Fiverr, simply head over to the site, type in something along the lines of "t shirt design" and you will see hundreds of gigs to browse through. A lot of people HATE fiverr, but there really are a lot of talented designers that hang out there. Keeping in mind that you will be making almost $5 commission for every shirt sold, you only need to make a sale or two to make up for the investment.
For Upwork, you will sign up, and post a job. Detail exactly what you want done, and people will apply to the jobs. I usually like to use Upwork if I have bulk orders that need to be done. If you have bulk shirt designs that you want to great created, you may be able to snag a designer for $3-$4 per design.
Send them the designs that you have saved after your research phase, and tell them you want something similar. Remember, we are not here to rip people off, we want to create something BETTER than what is currently selling.
Note About Copyright
Do not infringe upon copyright with Merch. It can be tempting because a lot of people are doing it and making some good money.
That being said, they will end up catching you eventually, and if you continually do it, your account will be banned and you will lose any of the money you have made.
I actually had a single shirt removed for copyright. I emailed them and was informed that the reason was because one of the sayings I was using was actually a trademark. I had NO idea.
To make sure you do not fall into the same trap I would highly recommend you check everything through Trademarkia.
Just be smart, do not use characters or sayings from popular TV shows or movies.
Where to find free images?
If you want to use images, you need images that are free to use and make money from. There are two things that I can recommend here.
Google "Free Keyword Vector" where the keyword is what you are searching for
Vector images can be re-sized without losing quality of the image. This makes sure that there will not be any pixelated trash in your designs. Always make sure that the license for these images is a Creative Commons License or similar.
Wrapping It Up
There you have it everyone! The full and complete tutorial for starting with Merch by Amazon and creating a passive revenue stream without too much work put into it. Remember that that more designs you put up, the more chance you will have of them selling. Always do your research to ensure that designs ARE selling and that you can provide more value to the people looking to purchase.
You will not need to advertise your shirts because of the massive amount of people who come to Amazon each and every day. If you were to find a design that was selling well, you could always advertise and just increase the amount you are selling. I have not tested this yet, but I would guess that Facebook ads would be a good way to start!
Good luck and keep up the hustle!