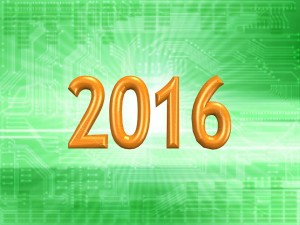 As 2015 has left and we all welcomed in the new year, I think it is time to make a post about what 2016 holds for me and Passive Marketing.
2015 sure was a roller coaster. Anyone in Internet Marketing is well aware of the ups and downs we can all have. Early in the year I saw my entire network of Amazon sites get hit with manual penalties from using public PBNs. Fast forward a few months and I had set up a Facebook campaign that was doing 1300% ROI daily. That was until Facebook banned my account because they did not like the subject matter I was promoting. Next I decided I was going to try my hand out at Android Apps. I had a popular app on my hands and just as I was about to sell it off for around $10,000, I got my developer account banned by making a dumb mistake (reskinning my app and getting it rejected 3 times was an auto ban).
With all the failures and learning experiences over the last year, I have really neglected this blog. I originally started Passive Marketing because I was sick and tired of all the "guru" blogs out there pushing their affiliate links even when the services were bad. I was sick of these people rehashing information that they do not even practice.
4 posts is all I managed to publish in the entire year. This is not acceptable. I practice what I preach here, and I have not shared any of my failures with you. This will change over the next year. I never updated the $100 a day with adsense post and have not shared any of my new projects with you. Over the next year, I am going to try and make Passive Marketing a priority. While I may not be sharing the exact URLs of certain projects, we are going to go on a ride together.
So along with updating posts and talking a little about my failures in the past, here are my goals for 2016 and what I expect to be writing about.
Goals for 2016 and Passive Marketing
Release my first SaaS product
This is the project that I am most excited about. I originally got the idea for this (Software as a Service) over a year ago. I had the money to invest to get it created, but soon after I was talking to developers, I lost a few of my big money sites with blackhat SEO. I put the project on the back burner.
Fast forward a year later, and I met a guy from across the globe from me who has released other softwares and plugins with his own team. After some talk and planning, we are ready to begin finally making the product.
When I first got into IM, the fact that I did not have to deal with any customers was my favorite aspect. Now, years later, I feel like I am ready to try the other side of the coin. Maybe it is part of the "grass is always greener" mentality, but this software is going to streamline something that I do everyday, and that I feel that other marketers would greatly benefit with.
As time goes on, you will be getting more and more information about this product. If you would like to get updates with how this project is going, feel free to subscribe to our email list below.
Increase FBA Profits to $50,000 per Month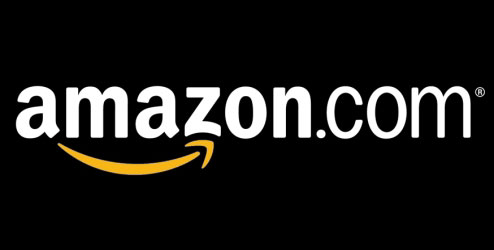 Amazon FBA (fulfillment by Amazon) is something that I literally got into just a few months ago and have been seeing some good success with. I will be typing up a giant guide to get started soon.
So many of the other guides from other internet marketers leave out information. They tell you about their massive sales, but nothing about expenses and how much of a pain it is to get the product into the states and to the warehouse.
With just a few products launched, and with how much traffic Amazon receives, I have found it is very hard to lose money on the FBA platform.
The goal this year is to scale this business as much as possible. All money that I make selling my products will be funneled back into the business to scale as quickly as possible. Keep and eye out for posts about FBA. That being said, I will not be abandoning niche/authority sites!
Take My T-Shirt Business to $4,000 per Month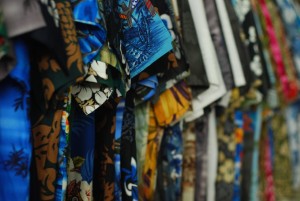 In the next few weeks I will be releasing a guide to how I started a T shirt business with absolutely no money and am already making around $400-$500 dollars a month with about a 1 hour time investment.
So many people start T shirt businesses and end up failing. There are a lot of start up costs involved, and marketing is always a pain.
Other people like to try services like Teespring and ultimately end up blowing their budget on Facebook ads.
I will be taking you step by step in an upcoming guide on how you can start a T shirt business with absolutely no investment.
Currently, I have 17 shirts, with only about 3 best sellers bringing me $400-$500 a month. I feel that it will be easy to scale this to $4000 per month in 2016 and want to take you on this journey with me.
Build Out Massive Authority Sites
Even with all my failures over the last year, the one thing I have been working on behind the scenes and not talking about is a couple of authority sites.
I originally had a goal of building out 5 authority sites with 1,000,000 words each in 2016. The more I think about that, the more daunting it seems.
I think instead, I will focus on 2 authority sites and just aim for 2,000,000 words each.
One of these authority sites was started in February 2015 and currently has 330k words on it. The other one I will be focusing on has about 70k words on it. Neither are authority sites yet, but that is the goal. Another thing to mention about these couple of sites is that I am focusing all my time on proper keyword research and not offsite SEO. While links work, and they work great, I will not be focusing on gaining shady links for these sites. Only hard earned outreach/guest post links will go to these sites. Both of them barely have any links currently and are already earning a nice sum of money.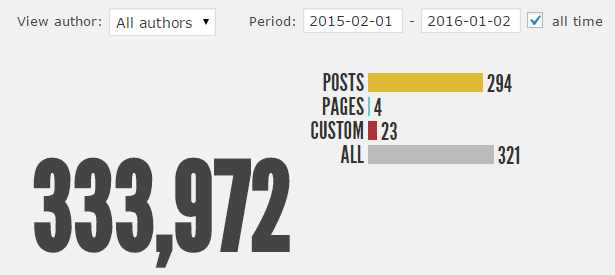 For those wondering, the plugin that displays this information is Word Stats.
While this is a good start on the project, I believe that I will need to automate this project as much as possible. Keyword research is what I do well, but posting the articles and formatting them correctly takes time! One of the goals will be to build out a team of content writers and have them automatically scheduled to post to grow as fast as possible.
Buy First Rental Property
This is something that has always intrigued me. As the girlfriend and I are planning to move across the country, I would like to purchase my first rental home for some nice passive income.
Instead of buying a depreciating asset like a nice sports car like I would have a year ago, it is time to act like an adult and invest in what I want to be a real estate empire at some point that I can retire on. I have absolutely no experience in this field, so everything will be a learning experience.
Deadlift 4 Plates
This goal has absolutely nothing to do with Internet Marketing at all. When you work at home all day every day, you have to find reasons to get out of your house.
Last year a friend first brought me to the gym and I got addicted. All I have wanted to do since then was deadlift 4 plates (405 pounds). I managed to go from an 85 pound deadlift to a 355 pound deadlift in just a single year. 2016 is the year I finally pull 4 plates!
If you work at home and are not exercising, I would strongly encourage you to get out of the house. It does wonders for your mental clarity and helps you focus on work.
Wrapping It Up
And there you have it, a few of my goals for 2016. This year is going to be great. Good luck to everyone out there. Buckle down, start a business, or scale. Just take action!
I would like to leave you all with one of my favorite funny pictures…