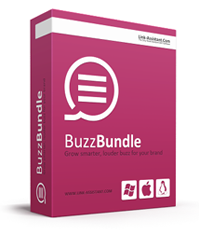 Last month I was able to make a 5 figure passive income from this blog. I did this all from free traffic by finding my target audience and engaging them directly.  Instead of building links, finding people with problems and engaging them directly actually lead to an increased in conversion.
So what did I use to achieve this? An awesome tool called BuzzBundle. This tool allows you to drive basically unlimited traffic to your site by getting involved in conversations around the internet.
BuzzBundle supports blogs, forums, Question and Answer sites, and social networks. This takes all the work out of finding these people while giving you an easy way to get engaged traffic to your blog.
Click Here To Start Your Free BuzzBundle Trial
BuzzBundle Review
Alright, you want to increase the visitors to your website that actually convert into sales. Not only was I able to make a 5 figure passive income last month utilizing this method, but many of the blogs visitors actually converted into email subscribers as well. I did all of this by doing these things:
Finding my target audience around the internet
Getting involved!
Gave them content that would benefit them
Reaped the benefits
Resources Used
BuzzBundle – My favorite software to find your blog's target audience and interact with them.
BuyProxies – The best proxy provider I have used to date.
What Does BuzzBundle Do?
So what can this awesome software actually do? Well, it does a few things only, but does them extremely well.
Scouts the internet for blogs, social networks, Q&A sites, and forums
Finds related content on these platforms based on your keywords
Interact with people on these platforms talking about content related to what you are promoting
Manages profile creation and verification on multiple platforms
One of the big names in internet marketing, SEO Powersuite, is the company that has created BuzzBundle. There is nothing better than this software currently on the market that does what BuzzBundle does. I can assure you that if you use it, you are going to save hours and hours of your time where you previously would have wasted it searching for your target audience. It connects you to people all over the globe in as little of time as possible.
Hosting Tavern Project
Before we get into how to set up your own personal campaign, I want to show you how BuzzBundle will look when you are all set up. As you can see from below, it has a great interface that is simple yet effective.

Above you can see how I have BuzzBundle set up. There are 4 columns. From left to right is Q&A sites, social networks, blogs and forums, then video sharing sites.
As you can see, I have been actively using the software to promote a post I recently wrote on my favorite automated link building software.
Forum Example
To get an idea of how this software works, let's find someone on a forum who wants to learn about a tool of internet marketing. As you can see from the screenshot, someone wanted to learn about different tools of SEO on a forum and someone has already replied to him that he is using GSA SER and loving it. Since I recently wrote an article about that, I am going to reply.
"I have been using GSA SER as well pretty extensively in the last few months. I even wrote a review of it here:  Link Here
It allows me to push thousands of links per minute to my tier 1 properties which helps cut down on money spent on SEO services. Check it out for yourself."
All I had to do is insert my link and post it!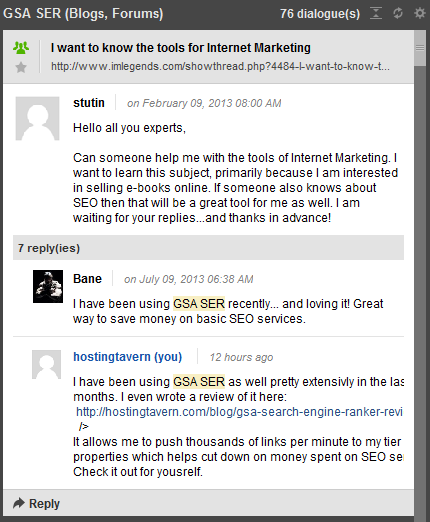 Normally, I would have never visited this forum and found this user who was asking this question. However, BuzzBundle made it easy to connect directly to someone that had a question that I could answer! This shows how powerful this software is.
How To Setup A BuzzBundle Campaign In Seconds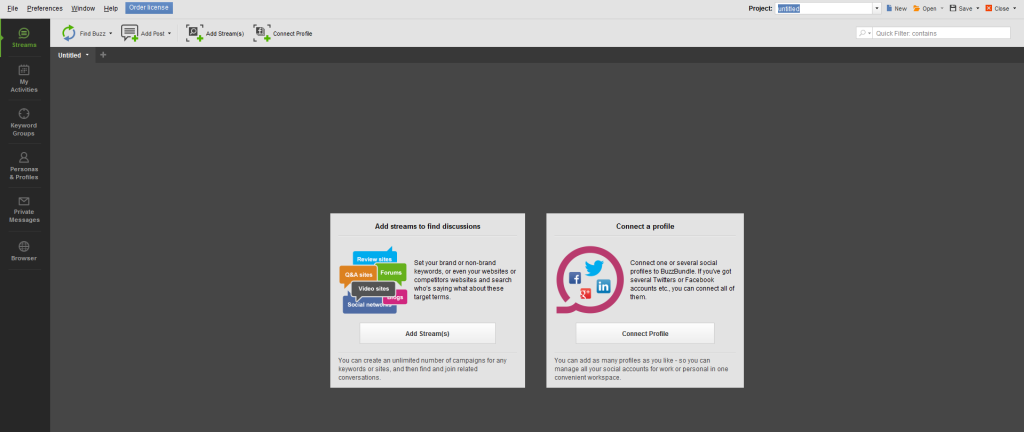 When you first open BuzzBundle, you will see a screen just like the one I posted above. Here you have the options to add steams, or connect a profile.
To setup your first BuzzBundle Campaign:
Go to File > Create New Project
Click on "Add Streams"
Enter in your website and keywords you want to find related content for
Click OK
By default, the software is going to have all social media and networks selected so you will have 4 columns after you click OK.
I have decided that I want to continue promoting my GSA Search Engine Ranker article so I add keywords such as: GSA, GSA SER, GSA Search Engine Ranker, and GSA verified list.
These terms should bring up information that is relevant to my post that has been posted around the net. I can see multiple people mentioning this software on Twitter, which I can use.
Changing The BuzzBundle Layout
Each of the columns in BuzzBundle is going to have a little gear at the top. To edit the layout of each column, click on that gear and select edit this stream.
I usually prefer not to show video sharing sites so I will simply uncheck video sharing sites and click okay. This will remove that stream from my interface.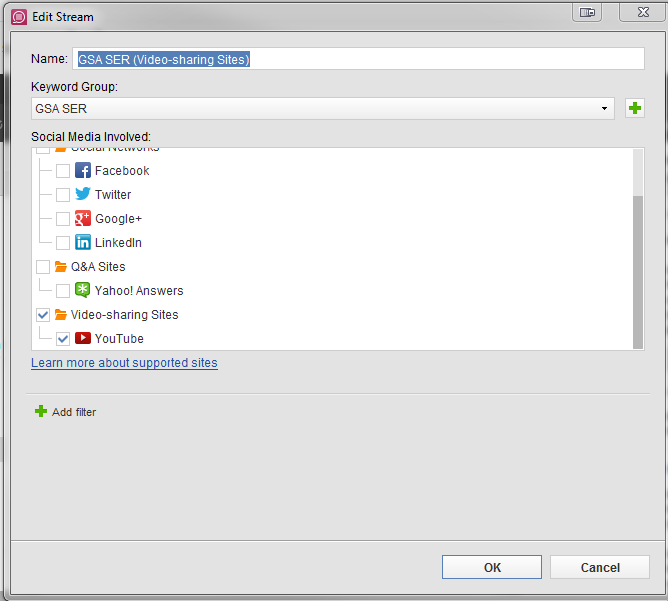 You can also choose where the columns go in the options. You can always change the keywords as well if there is a different post that you feel like promoting.
Set Up Your Proxies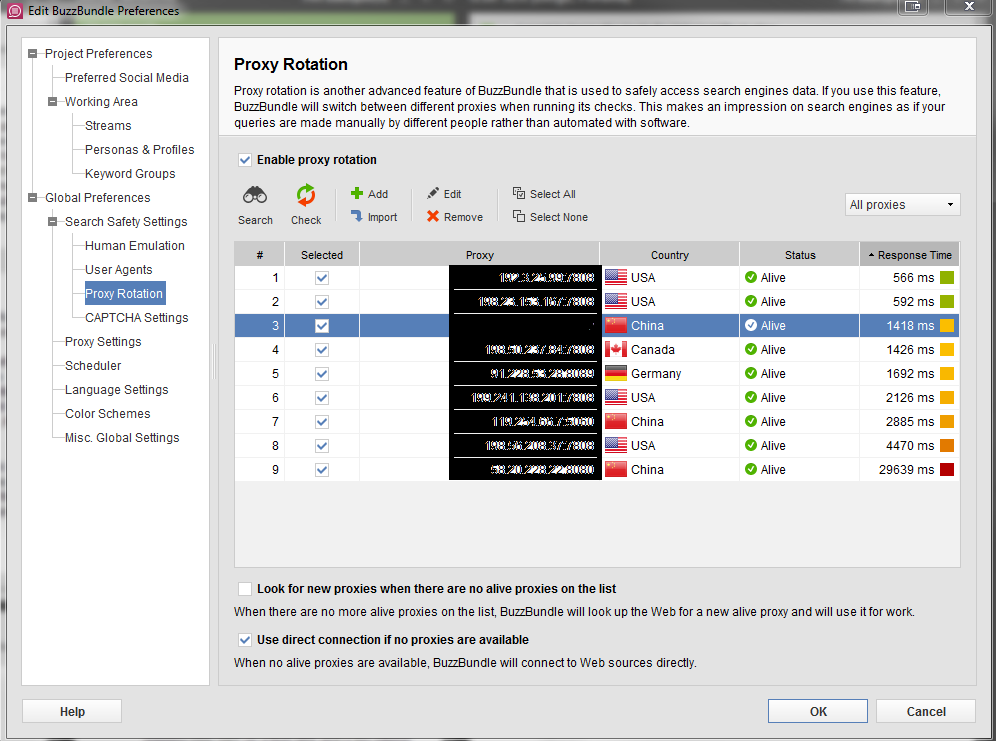 If you are using just a single keyword, there is probably no need for proxies. However, if you are using more than one or multiple keywords, then I would highly suggest using proxies to scrape to keep BuzzBundle working correctly. I personally prefer using semi-dedicated proxies from BuyProxies.
To set these up, go to Preferences > Search Safety Settings > Proxy Rotation and import them.
Setting up your Profile and Persona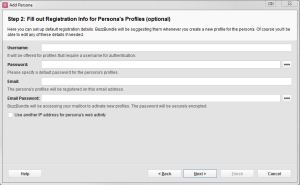 We are nearing the end of the setup process. We now need to setup a persona. To do this, select the Personas & Profiles tab from the left side of Buzzbundle. Upload an image for your site and then a name that you want to be seen as.
Next, fill out the registration info. This includes your username, password, email and your email password. The password for your email is used to verify emails when you sign up for new forums to check and verify these emails.
The last step is where you will enter in some information about yourself such as date of birth and website. This is what is used in different forums so you can choose to leave this blank if you want to.
Finally, from the main page of BuzzBundle, you are click the "Connect Profile" button to add your Twitter, Facebook, Google+ and any other forum or Q&S details that you have. These profiles will be used to reply to people when you start Buzzing.
Boom! You have finished setting up your BuzzBundle account and are ready to start interacting with people!
Let's Put BuzzBundle To Work!

We want to interact with the target audience right? Well, you are ready to go, so enter in your keywords and then click the Find Buzz Button at the top of your Buzzbundle screen.
The software will them crawl the web and find posts that are relevant to the keywords that you used.
Now we will see a list of relevant content in all the streams on the screen. This is where you are going to engage people directly.
Find someone that has a question that you have written content about. Reply to them with useful information and leave your link. Then click OK and submit your comment. There you go, you have engaged someone who is searching for information that you can offer them. They will most likely visit your blog and read more than one page if you have great content, all for free!
Software That Packs A BIG Punch
I have been using BuzzBundle everyday for around 30 minutes a day or whenever time allows. I have used this exact strategy to engage my potential traffic directly and it has been paying off.
Long term, I hope that people that I connect with come to my blog and read through all the information I have to offer. Even better would be to gain an email subscriber or buying a product through my affiliate link. This is exactly what has been happening and I could not be happier. If I had more time throughout the day, I could engage more people, which in turn should lead to higher conversions.
BuzzBundle delivers and helped me skyrocket my conversions. I hope it can help you as well.
Key Takeaways
The more you use the software, the more visitors your blog will have
Buzzbundle helps increase conversions
Buzzbundle great decreases the amount of work needed to find and engage your target audience
This has to be my all time favorite traffic generation tool and I do not even have to rely on the ever changing Google algorithms to do it!
Download the free trial, and see what it can do for your blog today!
Resources Used
BuzzBundle – My favorite software to find your blog's target audience and interact with them.
BuyProxies – The best proxy provider I have used to date.
BuzzBundle
review by
Passive Marketing
. Overall rating is
10
/
10