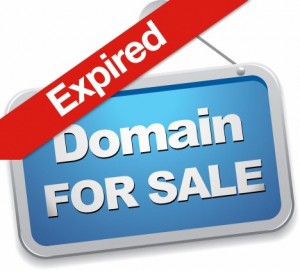 I have been using deleted or expired domains for a while now to rank different affiliates sites so I thought I would do a tutorial on this subject. People may tell you that this method is not working anymore after the latest Google update but I can assure you that it does, and there are many twists that you can apply to this method.
So to start out, you first need to know what an expired domain is. An expired domain is a domain that was once registered but has been abandoned and no longer has a site on that domain. When you go to register an expired domain, it is going to cost you the exact same as a new registration. You may hear people typically refer to them as dropped domains.
Some people debate on if these domains keep their age or if they are seen as a brand new site. I am of the mind that if you grab them within a decent period of time from when they were dropped, then the search engines will see the age of the domain because it looks like someone let their domain expire by mistake and re-registered it and put a site back up. In the end though, I am after a good backlink profile as well as domain and page authority so age is not that big of a concern for me.
Pro Tip: If you would like to skip this entire process and search a bank of domains that have not been spammed and have excellent stats, check out tbsolutions.info
Step 1: Find and Sort Domains with Backlinks
The best tool that you can use to find these domains can be found for free at http://www.expireddomains.net/. You are going to need to sign up for an account to be able to see all the domains that you will be searching. After you have signed up for an account, click on deleted domains and get a feel for the system. I normally only go for .com, .org, and .net domains but all of them can be used to get some massive link juice to your website.
I have seen some guides floating around the internet about this topic and most of them focus on getting the highest PR (page rank) domains that are listed. If this is something you are going for, you will spend the majority of your time checking to see if the PR is fake and if it is not fake, you are going to have a very small pool of domains to pick from. In order to have a large pool to pick from and more link juice, I typically filter by backlinks. As you can see from the screenshot below, I normally set it to sort from highest to lowest with sites that have at least 100 backlinks. Then you will need to go through this manually. The more backlinks a domain has, the higher PR it is going to have, this is why I do not really focus on the PR column.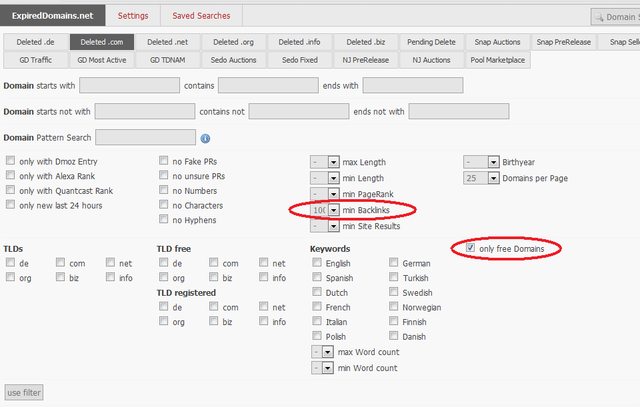 I also always check the "only free Domains" check box because I do not want to see domains that have been registered by the time I am searching. On occasion I will set an age filter but there are times when the age is not going to be correct. An example is if a domain was registered in 2002 but did not have a site on that domain until 2005, then the real age would be 2005. Age is not my concern but there are many things to keep in mind. Sometimes I like to pick up a domain that has been listed on DMOZ, just because some of my affiliate sites cannot seem to get a link from that directory.
Step 2: Backlink Investigation
Do you have a Majestic SEO account? If not, you most definitely should, so go sign up now! It is free (for a basic account) which is all you will need to do this step.
Almost a year ago, I picked up centroshambala.net, without knowing any of the steps I am showing you today. Let's use this as an example. I always pick fresh index. Choosing this option will show you the links that have been found within the last month. When searching for a good domain to use, it is best to see at least 100 links from 50 or more domains.
As you can see, centroshambala.net sure meets the criteria that I laid out above and seems to have a lot of education and governmental backlinks. This all seems great on its face, but be careful, everything is not always bright sun and rainbows.
Next, you will want to go take a look at the "Backlinks" tab to see the links and anchor texts that the site you are taking a look at has. This will show you some Majestic SEO metrics such as Citation Flow and Trust flow of the URL as well as the Domain. I normally hide the deleted backlinks as these are worthless for me. They are no longer around.
Look at the anchor texts on these links. Are they pharma or sex related? If so, run for the hills, this is not something you want passing link juice to your site. If you run a sex or pharma related site, then this could potentially be a great find. A lot of the time I find a domain that looks very promising but ends up being spammed with links with anchor texts of sex or pharma, I always skip these for obvious reasons.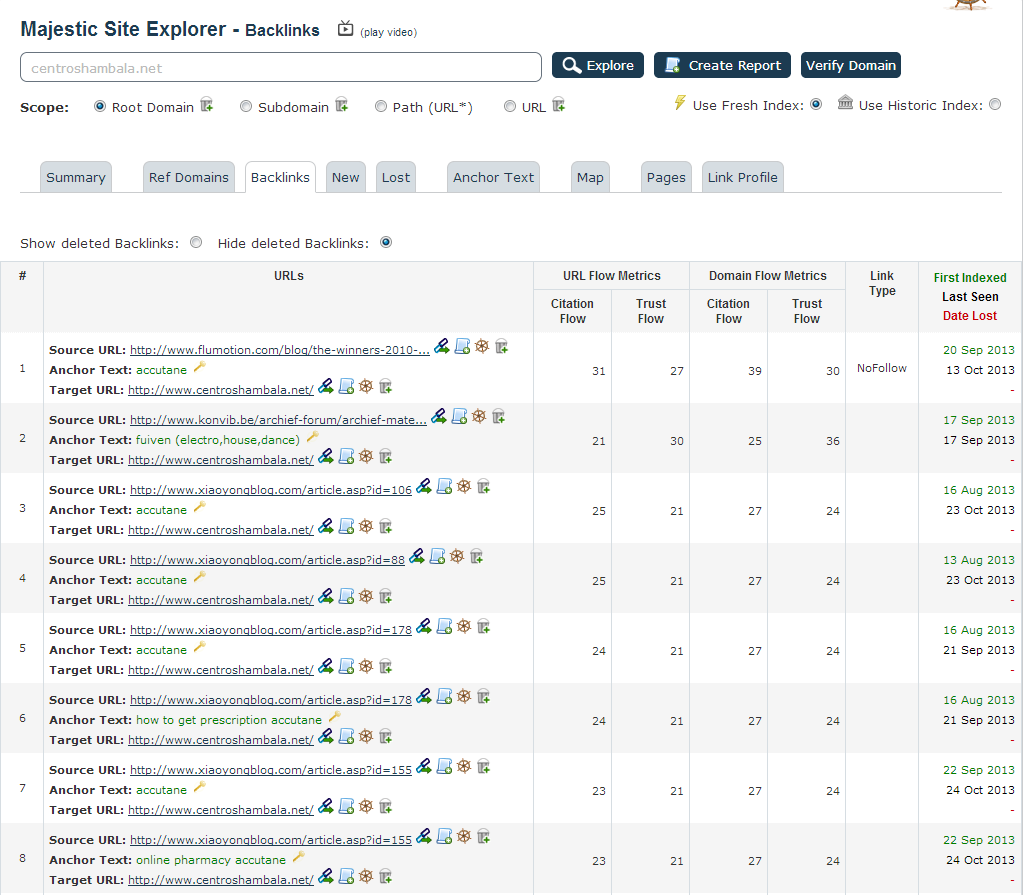 As you can see from above, this is the domain that I had previously bought without any of the knowledge I am showing you guys today. As you can see, I got taken pretty hard.
If you are happy with what you are seeing though, the next step would be to take a look at the pages that are linking to the site. Are they quality? Are they pure spam? You have to make your best judgment on this one, but if it is something you like, then go ahead and register it.
VERY IMPORTANT TIP: Make damn sure that the site is still indexed in Google. You do not want to pick up a domain that has been penalized in any way. To do this, go to Google and type in info: centroshambala.net where the domain is the domain that you are looking to purchase. If you see it show up, then you are ready to roll.
After you have the domain, there are a few options available to you. One of the options is that you can simply 301 the domain to a site you already have and get all of that link juice directly to your site. Another good option, if that is too risky for you, is to build out the site and place your links on it like a blog network.
Step 3: Rebuild the Old Site
Head on over to WayBackMachine and type in your URL to see what the site looked like before.  Type in some random letters after your domain name. This will show you all of the pages that the archive has.
If the site has many pages, I usually recreate 5-10, but the more the better. Try not to go below 5 original pages but if way back machine is not showing any pages, then you do not have to worry about recreating the old site, and can just add your new content.
In order to figure out what URLs you should create, head back over to Majestic SEO and take a look at the backlinks again. The URLs that have a lot of external backlinks are the ones you should recreate because they may have some PR.
To recreate all the URLs that I need, I like to use a plug-in called custom permalinks.  After you have set up the pages that you want to create, take a look at link juice keeper. This will redirect all the other links to pages you did not recreate to the homepage. This helps keep the massive juice which is the entire point right?
So now that you have the domain up and running, you have a choice of how you want to add your backlinks. I personally like to add them to existing pages, but you can also add more posts to the entire site.
You may see that the domain has a PR of N/A for a while. This is normal. If you picked up the domain in a timely manner after it has been dropped, then the PR should return shortly and you should not worry about losing any link juice, you are getting all of it.
Hosting and Domain Registration – What to Do?
For all my registration needs, I always use Namecheap.com. They give you free who is protection which is a must when basically creating a private blog network like this.
Web hosting is an entire different story. There is really no simple solution to this. Some like to use SEO hosting, but I prefer to use many cheap and effective hosting plans from different providers. I would highly recommend Ipage if you are looking for cheap web hosting.
To get full IP diversity I also like to add in some free web hosts. However, many of these do not support WordPress so using the plugins mentioned above is not possible, which creates an even bigger mess. You can find a good list of free hosts here. Be warned though, your sites will be offline a lot of the time, or just plain slow on the backend.
If there are any questions you have about the process, let me know in the comments. Otherwise, go out and get some rankings using this method, it still works!