A lot of people have been sending me emails and PMs in forums asking me to post a case study. The fact of the matter is that I have been extremely busy with an upcoming software release, as well as focusing on another authority site. Most of my small sites are performing just fine, and a case study on those would be downright boring.
So what to do? I have little time to work on a site, but really could use another income stream. How about a case study creating an authority site in the laziest way possible? What about a six figure exit within 12 months without spending time building links? Now that sounds interesting.
So that is exactly what I am going to do. I will show you over the next 12 months how to create an authority site, and I will do it by some controversial methods. Let's get into what has been done the first month.
Researching A Niche
Here is the thing, with the Google Keyword Planner going to shit, and not wanting to waste time combing through Semrush with a fine tooth comb (works great if you have the time!), I decided to do exactly what I did when I jumped into the internet marketing game. I would find people who were doing well and do an even better job than they were doing.
Over the past 6 or so months, I have been looking to purchase a site. Nothing too expensive, but a good steady earner. I found a niche I really liked and over the course of those 6 months, found a few sites that were in the niche and fit all my criteria.
The first thing you usually do when you find a site to buy is vet it. You want to make sure you get added to the webmaster tools, validate earnings, check backlinks.. ect. Basically go over the entire site and make sure that the business is viable and not going to tank on you right after you purchase it.
In total, I found 3 sites in my niche and were added to the webmaster tools and Analytics for all of them. The deals never did seem to go through. The amazing part though, is to this day I am STILL added to the analytics.
Yep, you read that right. I still have exact Analytics on how my potential competitors are doing 6 months later. This is incredibly valuable.
Not only that, but I was able to know exactly how much these sites were making at the time of selling.
So I had a niche, and I knew the niche makes good money. I also knew that the traffic potential is good and that you do not need too many links if you are writing a lot of long form content. Check mark.
Grabbing A Domain Name
There is no way I was going to be able to make around $4000 a month within 12 months if I started with a clean domain. I do NOT want to build links or bother with outreach at all. I needed an expired domain. No, I needed an expired domain (s) with killer backlinks!
I have been recommending these guys since 2013, and I still do. If you need an aged domain with backlinks, check out TBSolutions. I got in touch, and was looking through the domains they had. I landed on 3 choices domains, each of which would be a good money site name.
I decided to purchase all 3. This ended up costing me…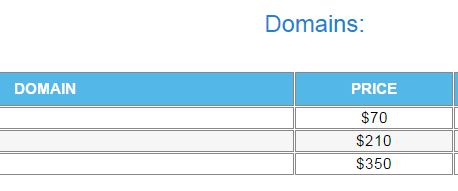 One of these was an extremely brandable domain with decent links and is ultimately the domain I decided to build the site on. The most expensive domain is in the exact same niche with great authority links from all types of publications. The only reason I did not decide to build the site out here is because the name does not fit well with the type of authority site I am building. The $70 domain I picked up because it had a few niche relevant links and also a good name.
The Approach
The idea here was that I would build out all the content on the brandable domain. When I say content, I mean a LOT of content. This site should grow to multiple millions of words if I stick with it and decide not to sell. Every few hundred thousand words, I would 301 redirect one of the other domains I bought to the money site. This might be grey hat, but it works and it works incredibly well.
Now that we had some domains, we need to get set up on a host and grab some keywords!
Setting Up Hosting
I usually recommend Hostgator because they give an amazing affiliate commission and I still have some sites hosted with them. For this case study though, I needed my host to be FAST. My goal was to have a website that loaded in half a second without caching once all set up.
To do this, I know I needed a VPS. If you are anything like me, you might be good at internet marketing but server illiterate. I have created a Digital Ocean before, but what a pain!
I decided to set up an account at CloudWays and give them a shot. They are essentially an in between UI with caching options to help spin server instances even if you really have no idea what you are doing. This is exactly what I needed! Here is a quick image of how it works. The coolest part is that you can pick from different servers from different companies.
I actually ended up moving a lot of my lower traffic sites over to CloudWays on a Digital Ocean server. They make it incredibly easy with a plugin that will basically move the WordPress contents over for you.
Anyway, from my tests, I decided to go with Vultr for this authority site. They seem to be faster (not sure why), plus seem to have a bit more reliability. At the time I signed up, they had a 768MB Ram, 15 GB SSD Disk, 1TB Transfer, 1 Core Processor server as the lowest plan and that is what I grabbed for $9 a month. They changed their pricing a little while ago so at the time of writing this the cheapest Vultr server is $11/mo which is VERY worth it for not having the headache of setting up servers yourself and having a support staff to chat to when you need to.

Now that you have your server set up, you just need to point your domain at it and install WordPress. Pointing your domain to CloudWays is a little different than you might be used to, but I promise it is not hard. You can follow this quick article here to do so.
Keyword Research
As I said near the beginning, I do not have very much time to spend on this site. I know I needed some good keywords but I just did not want to take the time to actually look for any.
The best way to quickly mine valuable keywords is simply take them from a site you know is doing well. If a site is doing well but you have better content and better links, you should outrank them. In this case, my site is already starting off with great links, and I will show you how I am getting incredibly good content without writing it myself or going broke.
Once you have identified a site that is doing well and are ready to grab all their keywords, here is how I did it.
For this example, lets use thesweethome.com since this is a site most people are familiar with. All of their URLs are generally the keyword of their articles.
So in this case, I would head to thesweethome.com/sitemap.xml which will bring up the site map for the entire site. It looks a little something like this:

After a little bit of clicking around, we come across their reviews: http://thesweethome.com/post_bc_review.xml and would you look at that! There are all our niche keywords that we know are doing well!
So naturally, I copied and pasted all the URLs from my target sites into an excel spreadsheet. I would make a note of how long each article was.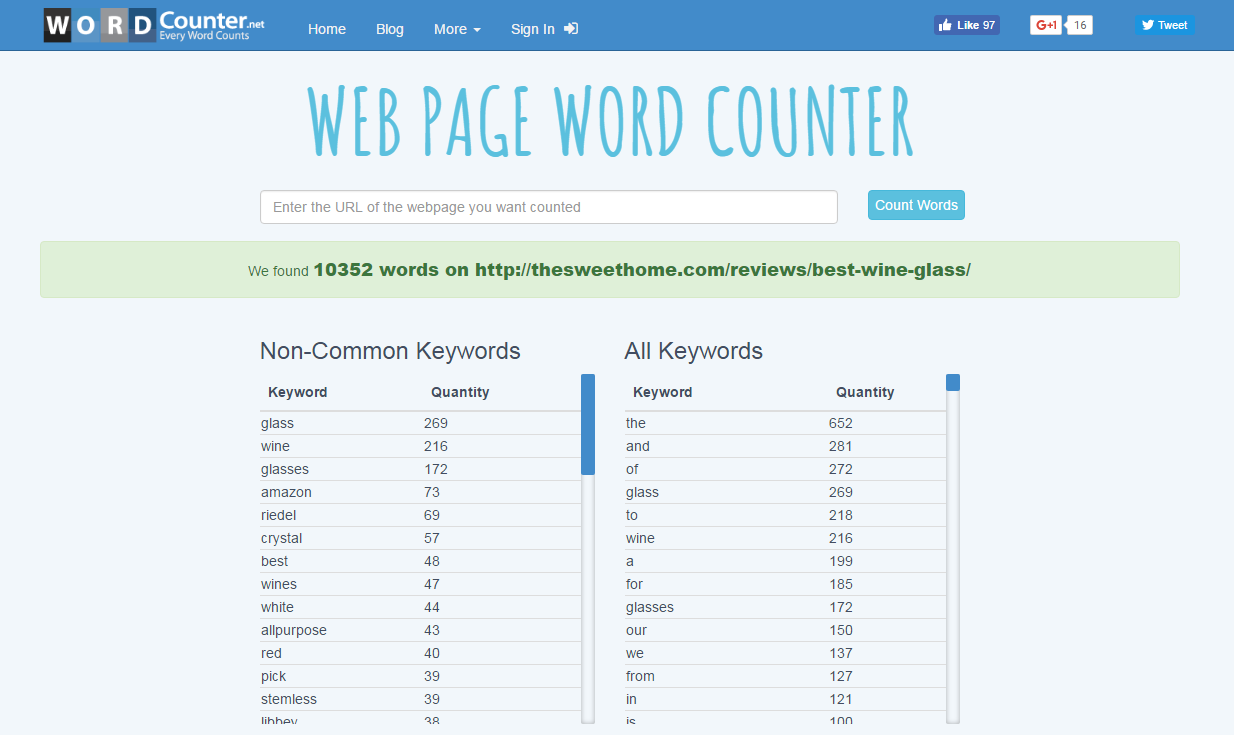 You can do that here: https://wordcounter.net/website-word-count.
I put all of that information in a spread sheet and kept it for later. That is literally all I did for keyword research and it took very little time.
Finding Writers (Outsourcing Content Creation)
I wrote in my original guide to setting up an authority site that I used Upwork and that is still the case. This is a GREAT place to find writers but at the same time can be a massive headache to find the "right" writers who actually care about their work and timelines you set.
What I have found the best is to hire stay at home moms!
Why?
Mothers are responsible, and most importantly seem to pay attention to detail and care about the work they are doing. Seriously, the people I have hired that are stay at home moms have NEVER been late, or if they do have something coming up, they will tell me well in advance. The content is always great and actually researched without just being rewritten from the top of the serps. The best part is that I get the content at a very reasonable rate!
Here is the exact script I used.
I have a quick article writing job if you are interested in getting some 5 star feedback on your profile and potential long term work.

I will provide you with the article title and would like you to research and then write a 1,000 word article.

The content will be affiliate content based around XXX gear. Those familiar with writing affiliate content will be prioritized.

Required:
– Native English
– Interested in completing this job quickly for the fixed bid amount and receiving 5 star feedback
– Interested in potential longer term writing after the successful completion of this job
– Bid at or below the $12 for this article

The right candidate would be available to write 300-500k words for an entire website.
I ended up hiring a lot of people for this job because I wanted to weed out the bad and bring on only a couple of great writers I could count on. This process took about a month, but i the end, I was left with 2 candidates that are still working with me on this project (6 months later!).
Setting Up WordPress
We have the server set up, we got our keyword research done, and then we found some awesome writers to start writing articles for us. We need a place to publish them. So after you have installed WordPress, set up a theme and some plugins.
I always recommend the Genesis framework. It seems to be coded well, is very fast, responsible, and there are some great child themes you can apply. Ever since buying this one, I never really went with anything else for affiliate sites.
Here are a list of the plugins I have installed on the site
You may notice that there is NO caching plugin. For the time I do not need it, and I do not want it to mess up my link localization at all.
I went ahead and set the rest of WordPress up by changing permalinks, adding in the www to the address and playing around with Yoast so it would do titles properly. At this point, we are finally ready to start adding the content given to us by the writers we found.
Adding Content, Adding LOTS of Content
When you get the articles back from your writers, you are going to want to upload it to your site. Now, for almost all my other sites out there, when I added images, I simply downloaded them on to my computer, and uploaded them to WordPress without a care in the world of big the images were.
Since I signed up with a server with 15 gigs of space and less than a gig of ram, I wanted to make sure I was optimizing this site for its full potential since other than that, I was not going to be working on the site myself at all. If I was going to take the time to upload content, I was going to do it right.
Since this is mostly an Amazon site, that means that every article has 5-15 images. This can REALLY slow down your site if these images are huge (like they most likely are if you are getting them from Amazon).
For every single image I added to my site, I downloaded it to my desktop, opened up Photoshop, went to image size, and changed the dimensions.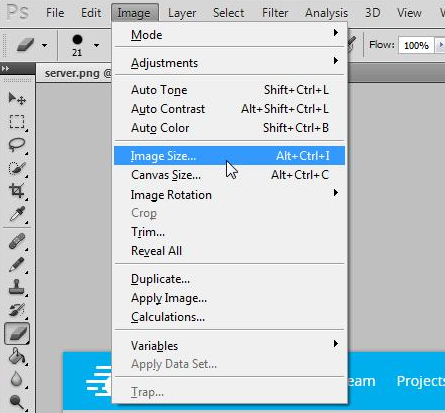 I generally changed the HIGHEST dimension to 300 pixels and let it resize based on that. When you go to save the image, I always picked quality 4 which made the images about 20-30KB which is extremely small.
This does not have much affect on the visit in my opinion because I am more concerned on getting them to click on my links than the absolute quality of the images I use. I did this for EVERY article I put on the site, and I guess you could say it is working.

Looks setting up that new server was worth it after all!
From here on out, all I will do is upload the articles that the writer gives me. Just so everyone is fully aware, I plan to 301 redirect the best domain I have at 300k words of content.
Fast Forward 6 Months
I started writing this post 6 months ago and then put it in draft and got extremely busy with launching and growing my SaaS business Merch Informer. Everything took a bit of a backseat but I still kept uploading articles to this site from the SAME two writers I hired at the beginning. If you were reading this case study and thought the wording was off at times, it is because it was all written at different times so apologies on that.
Amazon Slaps Us In The Face
Keeping it true to form, when a company gets too big, they usually demolish the people that helped them get there. There is nothing much you can do about it besides change out your affiliate links for other programs. Amazon lowered fees for associates all across the board and gave us all a WEEK of warning essentially cutting my income 40% overnight from my Amazon sites.
I thought long and hard about finishing this case study at all. Should I sell all my Amazon sites and finally get away from it while I move into the software space? Should I double down and buy Amazon affiliate sites at a great discount? After all, what makes a site valuable is not always the earnings, but the traffic. If you have traffic you can make money, you just have to figure out how the best way to do it is. Some people will look at this and think I spent a decent chunk on content if they do not built large sites. To some extent this is true, but I decided to finish the case study because everyone out there building sites is currently stuck in the same shitty situation.
Site Stats
In total, I have uploaded anywhere between 40-100k words of content to this site every single month without fail since I started. Just like I said I was going to do, I 301 redirected the other domain at 300k words of content.
This should be the month that I cross a half million words of content on the site, and this is where we sit today.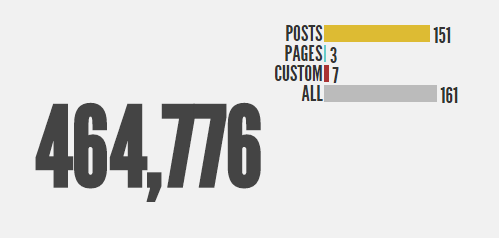 The traffic graph is going in the right direction!

Let's take a look at some of those sweet hands off earnings!

I was expecting to see around $1600-$2000 this month, but with Amazon changing everything, we shall see how I do!
Wrapping It Up
I will not be updating this case study every month but I will try to post an update when I have time as I am going forward with the content creation. The simple reason why I cannot keep the updates coming is that besides running MI, we have been working on a new piece of software for affiliate marketers that has NEVER been done and I am pretty excited about it. Make sure you sign up to my email list if you want to be the first to hear about it. I promise I won't spam you! I sent out like 4 emails a year.
Best of luck with your affiliate sites!